WEDDING ISSUE FRANCE BURGUNDY
In the midst of 100 acres of forest, Le Château de Séréville welcomes you just an hour away south of Paris.
THE HARMONY OF ELEGANCE AND NATURE
THE PROPERTY
The  property has its own natural spring with wells and 2 ponds which surround islands and that can be reached by paddle boat.
Take the opportunity to wander quietly through the woods along the many paths and maybe comme across roe-deer, wild hare or herons.
Just above the ponds, stands the farm just as it was in the beginning. Close to the gate of the pasture, a well provides the water for the animals and adjacent to the farm is a small organic garden which provides part of the food for the hens & for the miniature goats.
LEISURE
   In between walks, the reading rooms as well as the music room are open. The art books are in the main "Salon".
You may also wish to taste the local honey with tea served on the south terrace overlooking the pond.
ACTIVITIES & TOURISM
Le Château de Séréville is situated south of Fontainebleau, close to many other major tourisitic sites of Burgundy.
Take time to roam through the local markets and have a taste of the region.
The area is also particularily rich in castles, archeological sites, museums, medieval villages, gardens & farms.
You may also want to visit the wonderful vineyards & wineries of Chablis or rent a river boat
For sports, there are two golf courses closeby as well as many possibilities for other activities.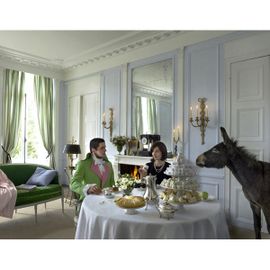 FACILITIES
in the next village, Saint Valérien, 1,5 km
    1 doctor, a drugstore (pharmacie), 1 vétérinaire (for animals), 1 rescue center with 
         firemen, 1 police center,  
    1 post office, 2 banks,     
    2 supermarkets, 2 bakeries, 1 butcher,  a street  market on saturdays, 1 restaurant , 
    1 pizzeria, 2 cafés, 1 tobacco and newspapers shop, 
    2 hairdressers, 1 flower shop,
    2 real estate agencies, 1 church , 
    2 garages, plus 1 for garden stuff, 1 filling station, 1 driving shool! 
in another next  village 7 km, Chéroy
    a bigger supermarket; and 1 selling stuff for fixing the house:  electricity, tools, 
    heating stuff  etc...
in the next city  Sens  (100 000 inhabitants)  15 km 10 mn
    a huge and very old Cathedral ,  a museum, cinemas, theater, old streets with shops, 
        restaurants, various supermarkets of different sorts
    a train station  direct trains every hour at least to Paris Gare de Lyon ; it takes 55 mn ;  
        a TGV or 2 each week to French Riviera
ACTIVITIES and sight seeing spots in the area 
. horse riding (and promenade en calèche) in several villages nearby (5 mn)
. cave (wine cellar)  for tasting wines au Château des Condé  (10 mn)
. swimming pools:   2 in Sens (15 mn) and one in Courtenay (15 mn)
. house boats on river Yonne
. medieval village and cities
      Sens  15 mn                           www.office-de-tourisme-sens.com
      Noyers  sur Serein  50 mn   www.noyers-et-tourisme.com
      Auxerre  50 mn                     www.ot-auxerre.fr
      Troyes  50 mn                       www.tourisme-troyes.com
. medieval castle under construction of Guédelon  50 mn    www.guedelon.fr 
. wine area of Chablis  50 mn    www.chablis.fr  
   Visite de vignes et caves:    
    http://www.tripadvisor.fr/Attraction_Review-g1079400-d2178749-Reviews- Chablis_Vititours-Chablis_Yonne_Burgundy.html
http://www.chablis-geoffroy.com/vins-blancs-bourgogne/degustation-caveau-vin-blanc-chablis.htmhttp://www.chablis-geoffroy.com/vins-blancs-bourgogne/degustation-caveau-vin-blanc-chablis.htm 
. Vézelay cathedral and village   90 mn   www.vezelaytourisme.com
. Château de Fontainebleau   50 mn         www.musee-chateau-fontainebleau.fr/Visites
. Château de Vaux le Vicomte  50 mn      www.vaux-le-vicomte.com
. Luxurious spa at La Côte Saint Jacques, Joigny  30 mn  
                                                                         http://www.cotesaintjacques.com/le-spa
. Loire valley castles   170 km  by motorway all the way
   http://www.chambord.org/